RECOGNITION
Over the years, Christie Gardens has built a continuum of care and services that has made a notable difference in the lives of seniors and their families.
Accreditation Initiatives

Christie Gardens' tradition of excellence continues as 'the House' pursues the latest in accreditation — because of these initiatives Christie's Residents and their families are assured that Christie Gardens is a leading-edge organization.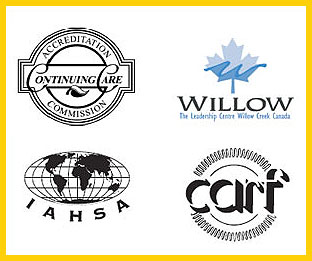 ---
CARF-CCAC News Release: Toronto retirement community leader calls accreditation process a 'high point'
Christie Gardens becomes first continuing care retirement community in Canada and first nursing home globally to earn CARF–CCAC accreditation
December 11, 2006
Edmonton, Alberta - Christie Gardens holds the distinction of being the first continuing care retirement community in Canada to earn accreditation from CARF–CCAC. Its nursing home became the first in the world to be accredited by CARF–CCAC for its Person-Centered Long-Term Care Community program. Calling the accreditation experience "a high point in our 22-year history," Grace Sweatman, executive director of Christie Gardens said the recent CARF–CCAC five-year term of accreditation award was "empowering and affirming" for residents, staff, and governance.
"Every step on the CARF–CCAC journey convinced us we had made the right decision in pursuing accreditation," Sweatman continued. "I have been delighted to share the results with our resident community, our staff team, and our board of directors. We feel enriched by the process. I know the quality of life of our residents is enhanced through our renewed commitment to person-centered care."
Christie Gardens serves residents physically, socially, and spiritually through a continuum of care and service options, including life-lease ownership suites, rental apartments, retirement studios, and long-term care beds.
CARF–CCAC was formed in 2003 when CARF, a veteran accreditor in the human service field, acquired the Continuing Care Accreditation Commission, which had been accrediting continuing care retirement communities since 1985. CARF began accrediting programs in Canada in 1993, incorporated CARF Canada in 2002, and opened an office the same year in Edmonton, Alberta.
Being the first organization in Canada accredited by CARF–CCAC heightened the Christie Gardens director's awareness of the retirement community's new international role-model status. "We are thrilled to be your Canadian ambassador," Sweatman concluded.
---
"Seniors represent a worldwide challenge to social planners who have to figure out how to feed and house us. One of the most innovative responses can be found in Central-West Toronto, on a street not far from the trendy Annex neighbourhood ... Christie Gardens" SHEILA KIERAN, CONDO LIVING, TORONTO STAR
---
Alzheimer Society of Canada Takes Notice of Christie's Model of Care
Providing "resident-centered care" in Assisted Living Plus begins by getting to know each resident – not for their status as a "patient" , but as a member of an extended family with very specific interests, likes and dislikes, and rich life histories. One example of "resident-centered care" is provided in our 'Memory Care' program. Several years ago, the leaders at Christie identified the need for the development of a distinctive model of care for those affected by dementia. How was a care team to succeed in keeping people safe, responding to the impacts of dementia, while providing lifestyle activities which reflected their history and interests?
The development of a "Memory Care" would ultimately answer this question. Not a health care system, but a uniquely tailored model of care and service. Team members, family members and volunteers work together to enhance the quality of life of residents with early-stage dementia. The structure of each day is based on normal routines, in a setting that provides a familiar home environment. Individualizing the rhythm of daily activities reduces structure and established routines in favour of a day filled with flexible and familiar experiences. Respecting the "best and most challenging" times of each person's day, the team personalizes the daily care structures. Because dementia can express itself differently day to day and person to person, it is essential that Memory Care is both flexible and focused on recognizing the day to day needs of its residents. In this setting ongoing attention is paid to creating tailored experiences as each resident's dementia changes. Christie Gardens' effective model of dementia care, has been brought to the attention of the Alzheimer Society of Canada, who have become interested in developing a teaching tool with many of our practices as standards for others to follow. We look forward to the expansion of this partnership and sharing our vision for Memory Care.